About Us
The Riverside Pizza House, which is located at 234 Tapley's Hill Rd., Seaton SA is the best place for your pizza and pasta cravings. We also have Specialties such as Crumbed Crab Claws, Garlic Bread, Creamy Potato Bake and Italian Baked Potato. Among our bestsellers for our pizza flavours are the Australian, Vegetarian, Italian, BBQ Chicken, Meat Muncher and Bacon Supreme. Pasta dishes are also available such as Bolognese, Carbonara, Alla Panna, Napolitana and Lasagne Supreme. Good thing is that it is now possible to place an order online and have your food delivered right in front of your doorstep. Order online now by clicking the Order Online button.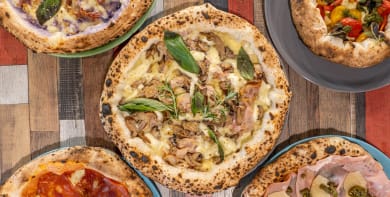 Reviews
Maria
"When ordering pizza there should be an option for eliminating toppings There is the option to add not take away and I'm left with a box at the end before payment to leave my exceptions"
4/09/2021
ben
"just amazing"
26/08/2021
Jennifer
"Driver was an Aussie. Food was hot and delivered on time. All good."
25/08/2021
Tonia
"Brilliant big servings, tasty and hot! Will be my new local!!"
19/08/2021
Contact Us
Find Us
234 Tapleys Hill rd, Seaton, 5023
Opening Hours
Tuesday
4:30 PM - 9:45 PM
Wednesday
4:30 PM - 9:45 PM
Thursday
4:30 PM - 9:45 PM
Friday
4:30 PM - 10:45 PM
Saturday
4:30 PM - 10:45 PM
Please note, delivery times may vary.
We deliver to
5007 Welland, 5007 West Hindmarsh, 5008 Croydon, 5008 Croydon Park, 5008 West Croydon, 5009 Allenby Gardens, 5009 Beverley, 5009 Kilkenny, 5010 Angle Park, 5010 Ferryden Park, 5010 Regency Park, 5011 St Clair, 5011 Woodville, 5011 Woodville Park, 5011 Woodville South, 5011 Woodville West, 5012 Athol Park, 5012 Mansfield Park, 5012 Woodville Gardens, 5012 Woodville North, 5013 Gillman, 5013 Ottoway, 5013 Pennington, 5013 Rosewater, 5014 Albert Park, 5014 Alberton, 5014 Cheltenham, 5014 Hendon, 5014 Queenstown, 5014 Royal Park, 5015 Birkenhead, 5015 Ethelton, 5015 Glanville, 5015 New Port, 5015 Port Adelaide, 5016 Largs Bay, 5016 Largs North, 5016 Peterhead, 5019 Exeter, 5019 Semaphore, 5019 Semaphore Park, 5019 Semaphore South, 5020 West Lakes Shore, 5021 West Lakes, 5022 Grange, 5022 Henley Beach, 5022 Henley Beach South, 5022 Tennyson, 5023 Findon, 5023 Seaton, 5024 Fulham, 5024 Fulham Gardens, 5024 West Beach, 5025 Flinders Park, 5025 Kidman Park, 5032 Brooklyn Park, 5032 Lockleys, 5032 Underdale